Publication in United Kingdom
I met the English photographer Roger Hicks in July during the Rencontres d'Arles. He is a typical English character with his white beard and his monocle. So I was able to show him my portfolio. It was with great interest and sympathy that he focused on my work Traces of Life. And finally, it was an honour to have my work published by him in Amateur Photographer magazine at the end of October 2017.
Check out his review in the article here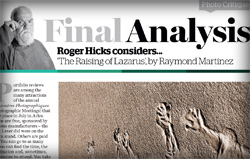 Orfeo
Espace Van Gogh - Arles
In 2010, I was greeted as a resident artist at the Espace Van Gogh in Arles.
There are still traces of my time spent there on my own space on Youtube
My friend Elsa (Mars) has done this painting during my artist residency at the Van Gogh space in Arles.
Ray Sun Photo
I give photography courses in Fontvieille. Grip of the camera, shooting in emblematic places of my Provence , Arles, Saint Rémy de Provence, the Camargue. The course continues with the managing and editing of your images.
Visit the website :  http://www.raysunphoto.com/